Optimizing Your Law Firm's Web Content For Mobile
The Internet is anything but static. Nothing online stands still for any serious length of time. As standards evolve, the content you already have on your website may need to be optimized to meet the newest specifications. In fact, in most cases, regardless of new developments in SEO best practice, you can always find aspects of your content to freshen, improve and optimize.
Some of the advice from the experts at SearchEngineWatch may at first seem contradictory. While they recommend shortening title and description meta tags to cater for smaller mobile screens (which I mentioned in Part 1 of this series), they also recommend using more rich long-tail keywords.
So how do we reconcile the two? How can we shorten our titles and descriptions, and yet make them long-tail at the same time? At first, it sounds like a complete contradiction.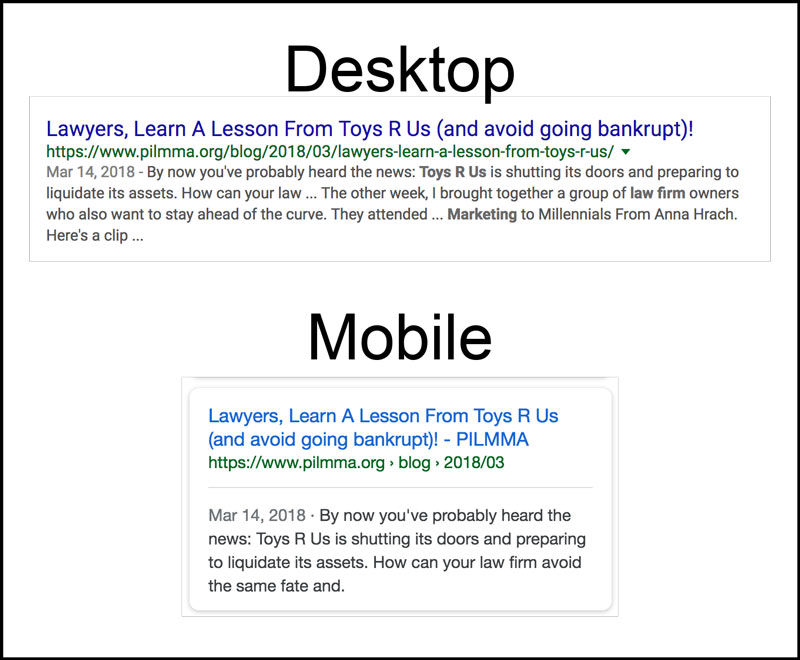 If we distinguish between a typed search query and a voice search query, it becomes easier to understand how there are two different types of searches.
For example, you might type a search query of "Lawyer Raleigh NC". But with the introduction of voice assistants on our smartphones, like Siri and "OK Google", many people are now dictating their searches. So they might ask their phone to search for "Car accident lawyer broken leg Chapel Hill". That's an example of a long-tail keyword search. People tend to use more words when dictating their search. For example, they might just ask their phone a question.
Voice search is an area for enormous potential growth. Many of us already have Siri or Google on our cellphones. Amazon is introducing more Echo devices and other companies, including Apple with their HomePod, are also offering products in this area.
Voice search is growing, but a lot of people still type in their search queries.
The advice is to cater to both kinds of searches, but how do we do that?
Well, you can use keywords in other places besides the title and description meta tags. If your website runs on WordPress, you can use categories and tags to classify and group your content.
It's the tags you want to make use of for long-tail keywords, but don't go crazy with keyword-stuffing. Focus on the long-tail searches that have previously been used to find your website content. Your analytics should help you figure this out.
You can also use long-tail terms for sub-headings, but make sure that you're writing first and foremost for the reader, not for the search engines.
Additionally, you could create pages or blog posts specifically targeted to those long-tail searches – a very specific answer for a very specific question. Your analytics will tell you whether they're performing in search results.
Optimizing Your Law Firm's Web Content for Voice Search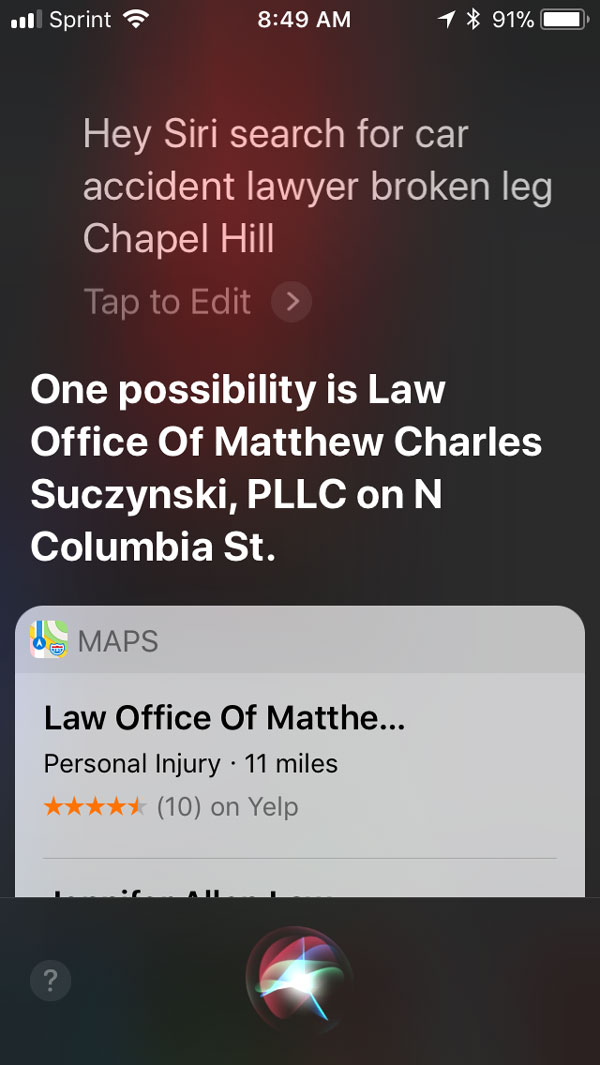 Voice search is still in its infancy. Its taken twenty years of evolution and ongoing development for Google to become what it is today. Google no longer performs simple searches to match the text of your query with the most relevant result that has the same text.
Today, Google wants to understand the context of your query, and attempt to guess ahead what it is you really want.
And that's where voice search will play a much bigger role in the coming years. We're more detailed when we ask our voice assistants to perform a search than when we manually type in the query ourselves. And the human voice can infer different meanings based on the intonation used.
As artificial intelligence becomes more sophisticated, voice search will become much more useful in correctly predicting what we really want.
Optimizing your law firm's web content for voice search is something that's still a fairly new concept, and there isn't a great deal of definitive advice and best practice to refer to.
However, one suggestion that I have seen from numerous experts that should help you optimize for voice search is to implement schema.org markup on pages, to help convey more information about your law firm's web content to the search engines.
For example, you can add schema.org markup to your contact page so that search engines explicitly understand that this particular page has your address and phone number. It doesn't need to infer anything because you're feeding exactly the specificity to the search engines with the markup. Kissmetrics has a useful guide on adding schema markup to your site.
Local Optimization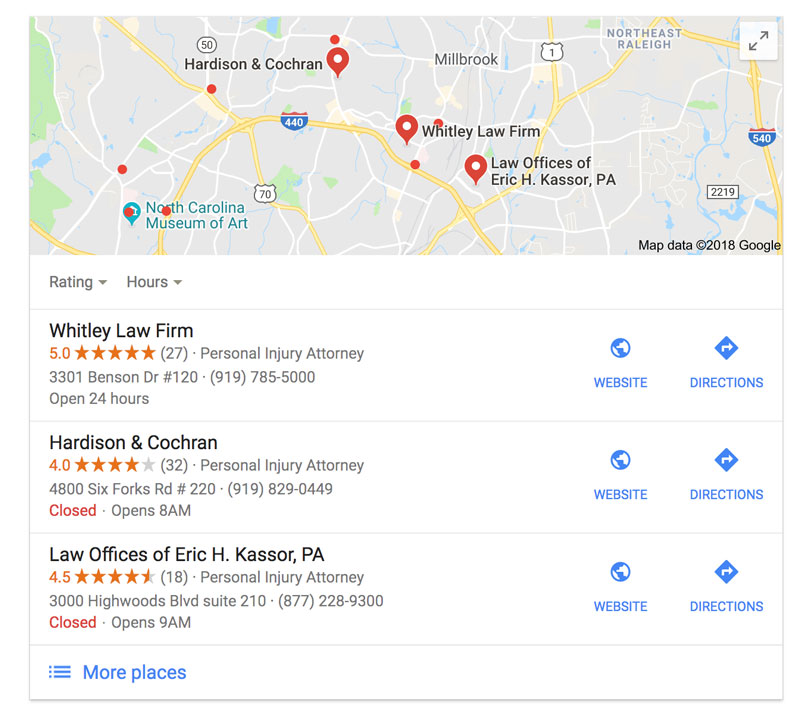 To be in the running for local search, the first thing you should already have done is claim your business listing on Google Maps. You should also have already optimized your listing for business classifications, opening hours, contact details and so on. Search Engine Watch provides a helpful guide on optimizing your Google Business listing.
Locality is sometimes included in long-tail searches, for example, when someone is looking for a personal injury lawyer in their town. But the experts have also noticed an increasing expectation among users that their mobile device will automatically know where they are and then serve up an appropriately local result for their search.
SearchEngineWatch recommends making sure your content is local-centric. You want Google to understand exactly where you are and which markets you serve. Be sure to include the names of cities, towns, subdivisions and neighborhoods in your law firm's web content, including in your title and description meta-tags, titles, headings, subheadings and even image alt-tags.
It's also recommended that you have your firm's name, address and phone number in the header, footer and sidebar. Make sure that information matches your numerous other online listings and citations on authoritative sites, such as your Google business listing and Yelp. And don't forget to include that Schema.org markup.
Promoted Pins on Google Maps
There is a new feature you can enable in your Google Map listing, via your Adwords account, called "Promoted Pins". It enables you to not only brand your "pin" on Google maps with your logo, it enables you to be promoted over other local matches with a specific offer.
In the example shown, Walgreens is promoted with a branded pin and a special offer on contact lens solution. Instead of Walgreens, that could be your law firm and your own special offer.
Check out Neil Patel's guide on promoted pins for more information.
Micro Moments for Law Firms
SearchEngineWatch also talked about something that many of us understand but hadn't given a name: "Micro Moments". Google even has a mini-portal about them.
Writing on the Google portal, Sridhar Ramaswamy explains micro moments as "immediately turning to a device to know, go, do, and buy."
He's referring to searches like, "Where is the nearest McDonalds?" or "What time does Macy's close?" or "How do I get to the dog walking track?"
However, micro moments are more than that. They're the 1-2 minute quick-fixes you get on your cellphone when you're waiting for a friend at the restaurant or during the commercial break in your favorite TV show.
The advice is to consciously create more content that can be consumed as a micro-moment, whether it's a short video on your blog or a Facebook update about something going on in your community or your office. SearchEngineWatch even suggests that you shorten your web content to 300-500 words.
Video is getting more popular all the time on the Internet, especially on Social Media, so creating some video Micro Moments would take advantage of this growing trend.
But it's still more than that. Think about FAQs, which can be short answers to short questions, or long answers to long questions. The idea of micro-moments is to tend towards shorter answers to shorter questions. Then ensure that those FAQs and answers are packaged in a way that enables micro-moments. That would mean, for example, that each question and answer can be individually and directly linked to by the search engines.
It's not a micro-moment if I have to spend three minutes scrolling through a page to find the answer to my questions.
You can also do things like record short video clips that individually answer each of your frequently asked questions, as well as your written answers. Some people would rather watch a video than read. And listening to the answer enables them to multi-task, although multitasking is not something I really believe in professionally. But you can change the linen on your bed while you're focusing on a radio or TV show, so it's not impossible.
Everything I've just told you is so that you understand how to "microfy" your law firm's web content. But the truth is, your educational material and your sales pitches are generally speaking, precisely the wrong content for micro-moments.
To explain, think about Social Media sites like Facebook. So many people, when they have a few spare minutes, pull out their phones and open Facebook. Maybe you do that too.
What I've noticed is that they're scrolling through their timelines, scanning past each micro-moment, whether it's a friend's status update or a news article that's been shared.
Like flipping through the pages of a newspaper, people scroll through their newsfeeds, through all the micro-moments, until they find one they think is interesting. And then they click to find out the rest of the story, if there is a rest of the story.
If you use Facebook, isn't that how you use it?
People don't go to Facebook to be educated. They don't go to Facebook to be marketed and sold to.
So ask yourself, "Is anybody really going to come to my law firm's Facebook page to find out the answer to a frequently asked question?"
The answer is no.
If you're in a restaurant, waiting for your friend to arrive, are you going online to look for legal advice? Or are you going on Facebook for a few minutes of downtime, for a little entertainment while you wait?
And if you were looking for legal advice, would you do it on a law firm's website or on their Facebook page?
What people want from Social Media is to be uplifted and entertained.
So are you contributing to that news stream? Are you creating interesting little media snippets or short stories that your clients might actually want to click on and find out more?
Here's the deal folks.
A lot of the information I share is about marketing your law firm. That means choosing the right message and knowing how to get that message out there.
Social Media is different.
The successful marketing strategies that PILMMA teaches, such as what really works on your law firm's website, or how to make the most out of pay-per-click advertising, are not automatically a good fit for Social Media.
Like I said, Social Media is different and you have to understand why people use Social Media and what content they're really looking for there, such as on Facebook.
So in part 3 of this series, published early next month, I'll focus specifically on Social Media. I'll explain why most law firms completely misunderstand what Social Media is and how to use it. I'll also go through what you should really be sharing and how to share it.
Tweaking Law Firm PPC Campaigns For Mobile
If you're running a Google Pay-Per-Click campaign, when was the last time you reviewed it? Google is always adding and tweaking their features. For example, there are various extensions that can be added to your Google ads, such as click-to-call, local extensions and the inclusion of specific links to pages on your law firm's website.


If you haven't reviewed your Pay-Per-Click campaigns in a while, it's worth spending the time to audit them.
A campaign that gets very few clicks could drag down the rest of your account, so first you should disable any really poorly performing campaigns. Secondly, any campaigns that are costing you for clicks, but failing to convert enough into clients, should also be disabled. Then you can investigate how to optimize them for better results before turning it back on – or trying some fresh ad copy.
With all of your other PPC campaigns, check each one to see if it's making use of the latest ad features, such as extensions. Take the time to configure the new extensions and add them to your existing campaigns, or create fresh ads or campaigns if necessary.
Tweaking Social Media Content and Advertising
If you're sharing your law firm's website content on Social Media, such as Facebook, but your website is not optimized for mobile, then you're wasting the time of your audience. Why spend the effort to get a click to your website, only to lose the viewer's attention because they can't read your website when they get there?
Before you share your law firm's web content on Social Media, you should already have a website optimized for mobile browsers. I covered mobile website optimization in Part 1 of this series.
Next, are you running any advertising on Social Media? It's worth testing the response to your new video Micro Moments by investing a few dollars to reach a lot more people. Facebook is increasingly throttling posts by businesses unless they are either incredibly viral, or if the business pays to "boost" or advertise that post.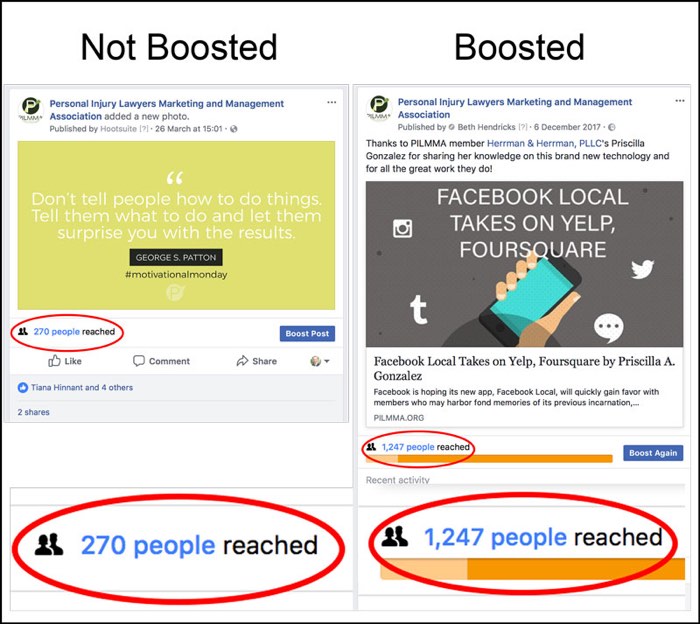 It's just the way it is now.
So if you're not getting the traction you used to on Social Media, such as Facebook, try spending a few dollars to boost your post, or to run some targeted advertising through their ad manager.
These are just a few suggestions about improving and optimizing your law firm's web content for mobile. But before you can optimize your content, it needs to be the right content – and when it comes to Social Media, many law firms still haven't figured out what the "right" content looks like.
So in the third part in this series, I'll focus on Social Media, why most law firms are getting it wrong and how to do it right so that it generates new cases for your law firm.
Read Part 1 in the series: Mobile Website Marketing for Law Firms in 2018
Read Part 3 in the series: The 2018 Guide to Your Personal Injury Law Firm's Social Media Marketing