It's that time of year again: leftovers in the oven, family flying all over the country, coffee cups with snowflakes on them… As the weather turns cold and you prepare for yet another New Year's Resolution, we encourage you to get creative with your Holiday marketing this season. At Consultwebs, we recognize how important your brand is to your law firm. Below we have outlined a few ideas to help market your firm during the Holidays.
Commit to Donating Time and/or Money to a Charity of Your Choosing (for every new case signup)
There are no shortage of national and local charities and nonprofits that would welcome donations this time, or any time of year. Step up to the plate and volunteer your time at a local soup kitchen, homeless shelter, or other good cause, and share the news with your community. If your caseload isn't too heavy, you could offer pro bono legal work to someone in need, or host a free legal clinic.
The American Bar Association has written a fantastic guide on how lawyers should select charities to partner with during the holidays, and more importantly, ways they can track the ROI of the donations.
Use Social Media to Promote a Gift Giveaway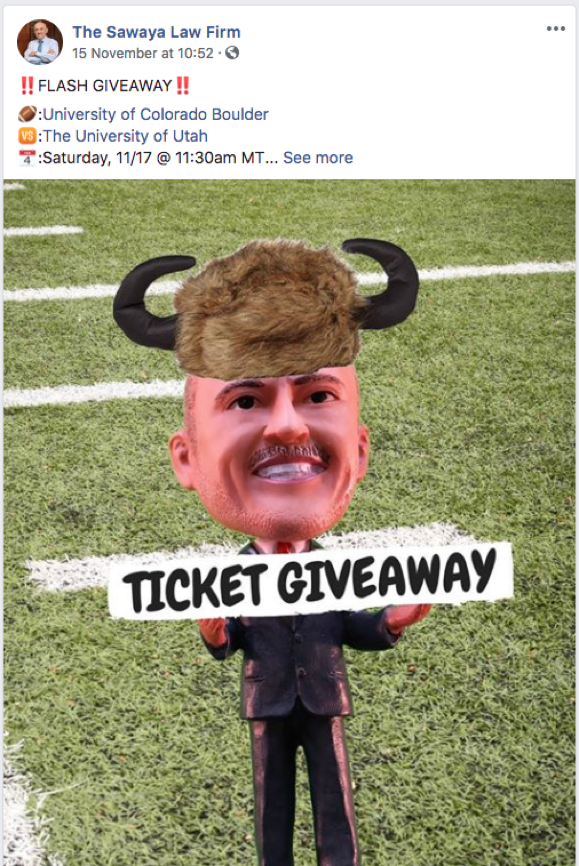 The Sawaya Law Firm in Denver, CO has a masterful presence on social media.
It's no secret that most people spend quality time on their social media platforms every day. While Consultwebs offers advice on how to use social media marketing effectively for your law firm, the holidays present a unique challenge. This is your time to hack into the joy of the season and create something "viral."
Contribute to the conversation and offer a gift card, charitable donation, or other presents to members of your community. Gamifying the contest is a surefire way to boost engagement and energize the giveaway. "First 50 to 'Like' this post get entered to win!" is a lot better than "Like and Share!"  Contests like this have the added benefit of beefing up your presence on Facebook, Twitter, Instagram, with outbound links.
Decorate Your Website, Direct Mail, E-blasts and Social Media Channels for Your Holiday Marketing
A simple Holiday wreath, a Hanukkah menorah or a Kwanzaa Kenora, can add a simple but powerful touch to your Holiday marketing efforts. Remind people that you are a living, breathing, changing business, just like them; and not a static office full of suits.

Promote Your Business Alongside Another, Relevant & Local Business
Your Holiday marketing doesn't just have to involve your business. If you've been active in your community for years, you likely already know other business owners that are trying to market their services as well. These do not have to be other law firms. Partnering with a local CPA, plumber, chiropractor, auto body shop, etc. to cross-promote each other's business during the Holidays can be beneficial to everyone involved.
Invite Santa Claus to Your Office
What better photo opportunity than to have Santa listening to local children's wishes?! Along with decorating your office, inside and out, inviting Santa Claus will also create buzz among local residents and remind them that you are more than just a law firm. Rather, you are an integral part of the community.
Host a Community Holiday Party or Event
Invite members of the community inside your office for hot chocolate, warm apple cider, and homemade cookies. This doesn't have to be a weekend night or major event; but rather could be more of an after-school type event for children and perhaps others in need of a warm beverage on cold days.
Send Holiday Greeting Cards to Previous Clients
You likely already have some sort of communication in place with existing/previous clients. Do not overlook the personalized touch of sending Holiday wishes to these folks. As you know, a word-of-mouth referral is the cheapest marketing in which you can invest. If you've been practicing for longer than a decade, you should have an ample list of people you can remind of your services and also offer warm greetings.
One final tip: do not wait until the last minute to get things started. It can take several days, if not weeks, for Google and other search engines to index changes made to your website. Stay ahead of the curve and have your online marketing agency work with you on this. And as always, if you need advice for Holiday marketing or any other time of year, feel free to reach out to us at Consultwebs!
If you'd like more info on legal marketing, sign up for the Consultwebs newsletter, follow us on social media, and subscribe to the LAWsome Podcast.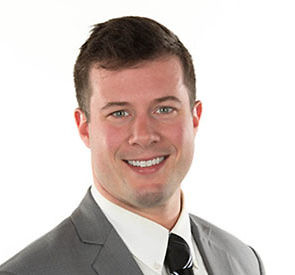 As Senior Marketing Strategist for Consultwebs, John Damron works closely with our law firm clients to develop the best Internet marketing strategies possible for their firm. John enjoys researching the practice areas and geographic markets the firms want to target. He listens to clients' needs and ensures that they are effectively communicated to the rest of our team, including our support staff technicians.
John, who spent several years in sales prior to joining Consultwebs, says he is impressed by the company's level of client service. John regularly speaks at legal marketing conferences on topics including cost-effective ways to generate revenue for law firms by means of Internet marketing as well as ways to increase return on investment from the Web. He has spoken at the Atlas Lawyers' Group conference, the M&L Seminar and the PILMMA summit.