## Update November 28th 2018: We've published a new article: Two Ways To Get More Online Reviews For Your Law Practice
---
I've always been a big fan of online reviews and testimonials.
As I often say, "What you say about yourself is good, but what others say about you is Golden."
Social proof – law firm online reviews and testimonials – can often be the clincher in signing up a new client. No matter what you say about your law practice, it's much more believable if you have a stack of clients who will testify that you are as good – or even better than – your word.
Additionally, when you know how to gain a steady stream of new Google reviews, it can have a beneficial effect on where your law firm appears in search results.
So it's no surprise that smart attorneys are chasing those 5-star law firm online reviews.
However, Google recently updated its policy and terms of service with regard to online reviews and, while some aspects may be difficult to enforce, it definitely shouldn't be ignored:
"Don't discourage or prohibit negative reviews or selectively solicit positive reviews from customers."
This is an important change and you might not realize that your law firm is breaking this new rule.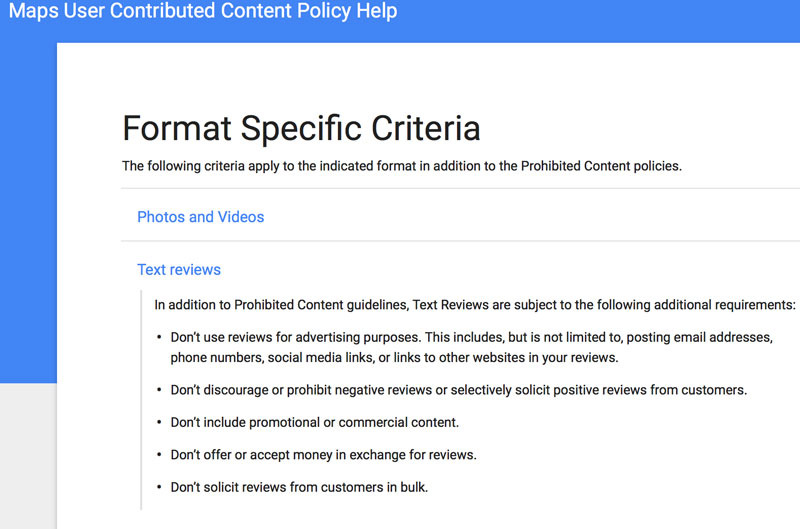 Avoiding Bad Online Reviews
Until this rule change, it was common practice for many businesses to try and head off a bad review, and in a couple of specific ways.
Firstly there was the straightforward method of simply asking your client if they were happy. If they weren't happy, then you just wouldn't move to step 2, which was asking them to post an online review.
Then, if you're smart, at this point you would instead find out from the client as much as possible about why they're not happy so that you can put it right. Whether or not you make that particular client happy enough to post a positive review, at least you'll prevent the same circumstances happening with your next client.
The more sophisticated way of heading off a negative review was with the use of a reputation management or review management platform.
Review Management Platforms
Review management platforms aren't especially complicated. They're used to systematically contact each client, usually via email or sometimes via text message, and ask them to score your law firm, for example out of 5 or out of 10.
If your client gave your law firm a high score, the platform would then automatically follow up and ask your client to post an online review of your law firm by giving them the links to your online profiles.
However, if your law practice did not score well with that client, then the software would not subsequently ask them to post an online review.
[By the way, my opinion on review management platforms is that they can be a useful tool, but they are no substitute for actually communicating with your clients. You know, like normal people talk to each other.]
According to the experts at Whitespark, heading off negative reviews like this is a definite no-no.
Unbiased
In fact, Whitespark reckons that being selective in which clients you ask for reviews is a breach of Google's new terms. As Darren Shaw explains on their website, "The refreshed TOS indicates that all requests for online reviews from customers must be unbiased."
You've got to be even-handed and neutral. If you're going to ask happy clients for an online review of your law firm, you also have to ask unhappy clients for the same.
So that means you can't use a review management platform to head off those negative reviews. Even if your law firm scores badly, you must now ask those unhappy clients to post a review. Instead of directing unhappy clients to a landing page that has no links to your review profiles, you must now include those links on the landing page.
Ask For An "Honest Review"
For some time now, I've been in the habit of asking clients to post an "honest review". I don't even want my clients thinking that I'm trying to influence what they might say. I want them to be honest, just like my law firm has been honest with them.
I built my law firms to deliver great client service, so I was confident that the vast majority of clients would be happy. Even the very best businesses will occasionally have a client who is never happy, no matter how hard you try. I can take the criticism from clients like that.
And occasionally, just occasionally, even the best businesses will make a mistake. It's how you correct that mistake that's the real test though. I always wanted to fix our mistakes and try to make things right by the client. But still, just occasionally, they'd remain unhappy.
And I can take that criticism too.
Because if you're doing things right, the vast majority of your law firm's online reviews will be positive. They will be 4-star and 5-star reviews.
Having the occasional negative review, mingled in with your stack of positive reviews, actually increases your credibility. If you only had 5-star reviews, potential clients might be disinclined to believe that they're all genuine.
And you always have the option of responding to a negative review.
However, if your law firm is the victim of a fake bad online review – from somebody who has never been your client, then you can follow this helpful guide from Whitespark on getting fake reviews removed.
Are Your Clients Unhappy?
There is a bigger issue here. Are you worried that your clients will post negative reviews about your law practice? If that's the case, then you're probably focusing on the wrong thing.
Rather than trying to cherry pick the few clients that are happy with your law firm, and avoid asking the unhappy clients, you should first fix your law practice.
Quite simply, you don't deserve 5-star law firm online reviews if you're not giving 5-star service. If that's the case, there's something fundamentally broken in your law firm.
The Easy Way To Get Law Firm Online Reviews
Every law firm owner wants to know the easy way to get online reviews. They want to know the tips, the tricks, the "best platform" to use or the right words to say.
If you want to get a stack of 5-star law firm online reviews – easily, and with minimum effort – then start by building a 5-star law practice.
Pay attention to all feedback from your clients, both positive and negative. If there's something you can fix, then fix it.
When you're giving every single client that 5-star treatment, you're in with a chance of getting positive online reviews for your law firm. But even having a review management platform won't guarantee the result.
Learn The Real Secrets To Getting 5-Star Online Reviews for Your Law Firm
The secret to getting a stack of 5-star online reviews isn't complicated, but I'm not about to share a killer strategy, for free, on my blog.
Instead, I'm including our complete system for getting and using testimonials and law firm online reviews in our brand new Fast-Start program, which will be made available to all PILMMA members in the next few days.
What you'll learn from our system, I guarantee no other law firm is doing. You'll be able to rack up glowing testimonials and 5-star online reviews for your law practice – and you'll be able to turn all that into powerful content for your website.
I guarantee your caseload will increase with this system – as long as you already have 5-star client service.
You cannot learn this proven system anywhere else. That alone makes membership of PILMMA a total no-brainer bargain. But that's not all you'll get from being a member of PILMMA. To find out more, go to https://www.TryPILMMA.com
---
## Update November 28th 2018: We've published a new article: Two Ways To Get More Online Reviews For Your Law Practice