Editor's Note:
In this post from Crisp Video CEO, Michael Mogill, he tells you *what* you should post on Facebook to engage potential clients. You can download a "Social Media Cheatsheet" he has put together
here
.
If you'd like to learn more about the changes Facebook recently made to user newsfeeds, check out a video we posted a few weeks ago: Adapting to Facebook's 2018 Changes
———-
Mark Zuckerberg recently rolled out a series of updates that will seriously alter a Facebook user's newsfeed experience. By limiting content from brands and corporate publishers, Zuckerberg hopes to create a better newsfeed experience that encourages engagement and personal interactions with friends and family rather than businesses.
Sounds promising, right? Not if you run a business page. The implications of this change could prove to be detrimental in the long term if you rely on Facebook for your content distribution.
Here's the thing about Facebook marketing: Facebook provides you with traffic, but it doesn't guarantee an audience. What that means is that while Facebook can guarantee advertisers they'll get traffic (i.e. paid views) on their content, it doesn't guarantee that it will earn you an audience.
If you're looking to engage potential clients on Facebook, I would recommend you pivot away from the mindset of traffic curation and focus instead on audience curation. If you can successfully create a community of engaged users through your Facebook marketing, the traffic will naturally follow.
You can break down Facebook audiences into two types: paid audiences and earned audiences.
Paid audiences are the people who see your content because you pay to put it in front of them, while earned audiences are those who voluntarily engage with your updates, "like" your page because they want to see more updates, and regularly read the content you share. Paid audiences are easier to obtain, but also easier to lose – especially when Facebook creates changes that will limit the amount of content you'll be able to put in front of those users.
Meanwhile, earned audiences become members of the community you've curated through your Facebook marketing efforts. They're harder to obtain, but they're loyal to your brand. This means they're more likely to convert – and because they regularly engage with your posts, Facebook's new algorithm may not downplay your updates in their newsfeed because it would identify it as high-quality content.
3 Ways to Earn Your Law Firm's Audience on Facebook
1. Create Content Potential Clients Want to Read
Similar to a successful content strategy on your website, a successful Facebook strategy involves creating content your potential clients want to read. While this may not mean creating 2,000 word Facebook statuses, it does mean you need to be conscientious of the needs of your audience.
Consider the following ideas for a Facebook content strategy:
Weekly posts offering fun facts, tips, or things to know about common legal incidents within your practice area (such as "10 Things You Need to Know After a Car Accident")

Take high-traffic blogs on your site and curate them into Facebook posts (i.e. share a link to the post and include a snippet of the post in the description)

Ensure all of your content is optimized for Facebook readability by breaking up paragraphs, using bullets, and short sentences

Adhere to the rule of thirds for content: No more than ⅓ of your content should be focused on selling your services, while the other ⅔ should be focused on providing valuable resources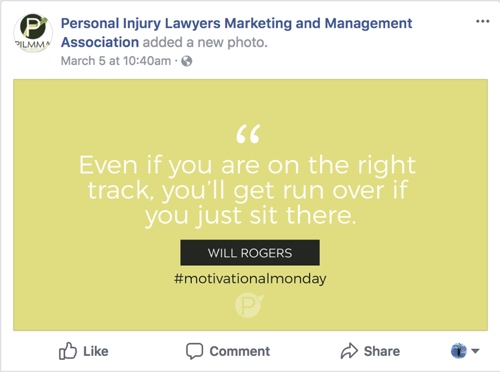 2. Incorporate Visuals into Your Content
If there's one thing we know about Facebook, it's that Facebook loves visual content. Photos and videos rule the newsfeed, which is why text-only status updates usually get lost in the noise. Take advantage of this algorithm preference by consistently sharing photos and videos on your business page.
You can easily repurpose existing content into visual content by converting some of your most popular blogs, eBooks, or white papers into smaller, digestible visuals like infographics or featured quotes.
You can use tools like Canva or Adioma to create visually pleasing infographics for low- to no-cost.
Facebook's algorithm also promotes video content within the newsfeed, perhaps more than any other style of content. Sharing video content about your firm (such as a brand video or attorney profile) or educational videos are a great way to simultaneously provide value, humanize your firm, and take advantage of Facebook's preference for video.
Additionally, if you boost these videos to a targeted audience, you can get them in front of the people most likely to benefit from your services, which is a highly effective conversion tool.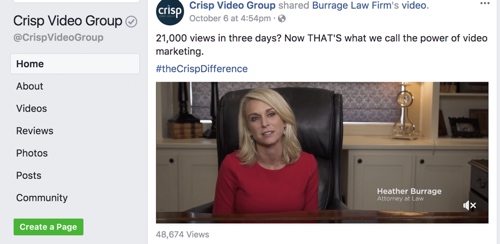 3. Engage With Your Facebook Audience
You can't focus all your efforts on publishing content to Facebook while neglecting the people actually interacting with your content. Make sure that you have someone on your staff who is diligently monitoring your Facebook business page to respond to inquiries, reply to comments, and engage with anyone who interacts with your content.
You can also incorporate content into your Facebook strategy that intentionally engages your Facebook audience. Post updates that ask questions, share timely content and ask for their reactions ("Did you see this new update to the seatbelt law? What do you think?"), and share your audience's content to your page if it's applicable.
Your goal is to create a conversation, not just broadcast content into the void. This means you need to curate genuine engagement with your audience by promptly addressing their questions or comments and providing them with valuable content.
Earning your audience is no small feat. But, it is a more sustainable solution for your Facebook advertising efforts. Remember that even if you pour money into newsfeed placement, if Facebook's algorithm deems your content "low-quality", it won't show up in front of your ideal clients. Creating a long-term Facebook strategy that focuses on value and engagement is the solution you need to ensure your content gets in front of the people who matter most to your firm – potential clients.
————
Michael Mogill is the Founder and CEO of Crisp Video Group (http://www.crispvideo.com/legal), a national legal video marketing company that produces high-quality and engaging legal videos for attorneys all over the country. Crisp Video is consistently recognized for creating engaging legal videos that help attorneys see a 2 to 10 times increase in average case values. By simply bringing in higher-value cases, attorneys who produce videos with Crisp Video see an average return on investment of 300% and routinely double and triple their revenue — sometimes within just 6 months. He has been featured in Forbes, Avvo, ABA, PILMMA, The Huffington Post, and The Wall Street Journal.